Building a Log Cabin

Building a log cabin is one of the greatest adventures I have been on! It all began when I saw several old log cabins down in West Virginia. I was fascinated with the axe marks and the grey chinking between the logs.

I always liked old barns with hand hewn beams so seeing these same style logs in cabin walls was incredible. Upon further study I noticed how the doors, windows and jambs were also hand made. My artistic side was stirring. I wanted to build my own.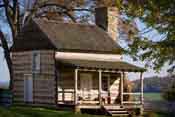 Click to enlarge
I now understand that building a log cabin does not take a great amount of previous experience or talent. It takes a lot of persistence and good resources.
When I say resources, I am referring to a book like Charles McRaven's
The Classic Hewn-Log House
or a web site like this with details of real working knowledge.


You will find that building a log cabin is very simple.
Most of the work is cutting, peeling and shaping your logs. As you begin to work out your cabin, here are some questions to consider:
What kind of wood will you use? This is very important since some wood types are very poor choices.
What size, shape and style of log cabin do you want to build?
Will you hew your logs with an axe and adze or have them sawn on a sawmill or or chainsaw mill? I started with a broad axe but after hewing four 22 ft logs I realized I did not have the time or the back for it! The cutting position for the broad axe irritated a previous back injury. I finished with a chainsaw mill. This did not get me the axe marks but overall, I am happy with my cabin. I now have a greater respect for those marks and the men or woman who made them.
Dovetail Notch

Will you design the cabin yourself, copy someone's project or use professionally drawn plans?
Which type of corner notch do you like and have the time and skill to make?
What needs to be done to your site to prep for construction?
What kind of foundation do you need and like?
How will you get the logs (especially the top levels) up?
Where can you find windows that will look right and function well?
Will your cabin have a porch?
What will the interior of your cabin be like?

What do you want to know about building a log cabin?
Submit your question for Banjoe and other visitors to comment on.
Answers from Banjoe
Click below to see previously asked questions...