Michigan Cabin Rentals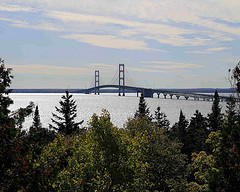 The Macinac Bridge in Northern Michigan
These Michigan cabin rentals showcase all different log cabin styles, some built by Michigan pioneers generations ago.

Spend some time away from your regular routine in one of Michigan's many log cabin rentals. Are you looking for...

...relaxing peace and quiet?
...history that comes alive?
...a chance to enjoy simple times and pleasures?
...a luxurious trip to a beautiful location?

Get ready for your own log cabin adventure in Michigan!
Adventurers: Share your favorite MI log cabin getaways
Owners: Spread the word about your Michigan cabin rental
Builders & Dreamers: See photos galore!
Do you know of any great cabin rentals in Michigan?
Share about a Michigan vacation cabin rental you own or have stayed in!
More Michigan Cabin Rentals
Click below to see contributions from other visitors to this page...