Michigan Cabins

See a list of historic MI cabins below.
Find rental cabins in Michigan

Photo: ktylerconk/Flickr
Michigan log cabins are as unique as the pioneers who built them. When I take my children to visit one, it feels like American history is alive right in front of our eyes!

We talk and try to guess what kind of person built each structure based on the clues we see. Sometimes its almost like fingerprints have been left for us, showing whether the family was artistic or business minded, whether they were rich or poor, whether they were lazy or industrious. We're sure not talking about any cookie cutter suburb houses here.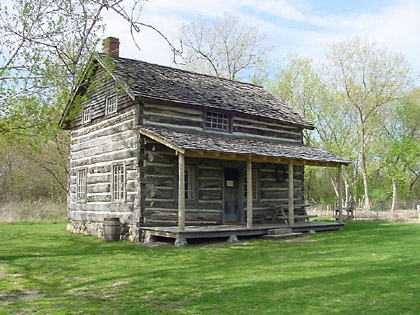 Moon Log Cabin, Lansing Michigan
Nearly 100 cabins are included in the early summertime Michigan Log Cabin Day self guided tour. Find out this year's date and where to get a map on Virginia Handy's Log Cabin Crafts site.

Do you know of any special Michigan cabins?
Share your Michigan log cabin adventures or invite people to see your historic site!
More Log Cabin Adventures
Click below to see contributions from other visitors to this page...

Banner Cabin in Sanilac Michigan If you wonder if your cabin is worth saving, take a look at what was done with the Banner Cabin in Sanilac Michigan. This cabin was quickly built as a ...
Cheboygan Michigan Cabin This log cabin in Cheboygan Michigan was built in the mid 1800?s and is one of three remaining cabins left when the Cheboygan County Sheriff sent deputies ...
Barry County Trappers Cabin Barry County Michigan Cabin - You should see the Historic Bowens Mills near Gun Lake and the Yankee Springs State Park! The Fork River Free Trappers, a ...