The cabins in Tennessee are some of my very favorite. As my friend Jim and I visited the Cades Cove cabins in the Smoky Mountains, I knew I would build my own someday!
A few years later I went back to these Tennessee log cabins while in the middle of building my own. So many questions I had were answered as I saw the numerous creative methods of construction and joinery used by the pioneers.
You can see and even help reenact history in these cabins in Tennessee:
Gatlinburg Tennessee Cabins/Pigeon Forge Tennessee Cabins
Visiting Cades Cove takes patience, but the trip on winding roads through the Smoky Mountains (and back in time) is worth it.
http://www.cadescove.net/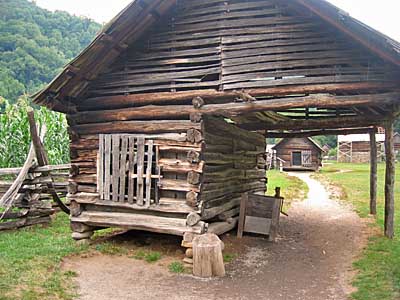 Cades Cove Log Outbuilding


Maryville Tennessee Log Cabin
- Go to Blount County to see The Sam Houston Log Schoolhouse which is named for the soldier, statesman, and pioneer from East Tennessee. Built of hewn poplar logs, it is representative of field schools of the late eighteenth and early nineteenth centuries.
www.tennesseeanytime.org/homework/historicsites/samhoust.html
Norris Tennessee Cabin
- The Museum of Appalachia a little ways north of Knoxville has been called the most authentic and complete replica of pioneer Appalachian life in the world. It is more like a village whose inhabitants just left for a moment. The village includes several log structures such as the Mark Twain family cabin and a log chapel.
www.museumofappalachia.com
Lawrence County
- Here is the birthplace of Davy Crockett in Limestone with a replica cabin. Find out which legends about Davy Crockett are true!
http://state.tn.us/environment/parks/DavyCrockettSHP
Knox County
- Marble Springs was the home of the first governor of Tennessee, John Sevier. It is located at the foot of Bays Mountain, about 5 miles south of Knoxville The site has 5 buildings dating from 1780 and is a living history museum where interpreters demonstrate the history of early Tennessee.
www.discoveret.org/jsma/main.htm

Piney Flats
- This great living history museum in Sullivan County has several Tennessee cabins to visit. Check out their special events like their summer day camp for children who want to go back in time and the reenactment of an Indian raid.
www.rockymountmuseum.com
Castalian Springs
- Wynnewood is one of the largest log structures ever constructed in Tennessee - built in 1828. It was built in 1828 as a stagecoach inn on the Nashville-Knoxville Road. Wynnewood has no official site at this time, but you can find out more about it here:
www.tennesseeanytime.org/homework/historicsites/wynnewoo.html
Johnson City
- The Tipton-Haynes State Historic Site in Washington County has eleven buildings which tell the story of Tennessee's history from early settlement to the Civil War era. There is a 25' x 35' log cabin of Col. John Tipton contained within a large white house from a log cabin remodel! The outbuildings include a smokehouse, pigsty, loom house, still house, springhouse and the large log barn and corncrib from the Tipton period. You can also visit the cave where tradition says that Daniel Boone camped.
www.tipton-haynes.org/site/visit.php

Goodlettsville
- Mansker's Station Historic Site is a staffed living history site which represents the Station built by Kasper Mansker in the late 18th Century.
www.cityofgoodlettsville.org/historic
Hermitage, TN
- The Home of Andrew Jackson, 12 miles east of downtown Nashville, is the most authentic early presidential home in America, where you'll be a honored guest in the Jackson family mansion, the formal garden, slave quarters, and the original log cabin the Jacksons occupied in 1804. The Hermitage which is an 1,100-acre plantation was once home to 150 enslaved African Americans who worked the farm, cultivated the gardens, tended livestock, baled cotton, cared for the home and its guests, and met countless other needs of the plantation. The stories about these people are really interesting.
thehermitage.com
Where would you like to go next?
...see
Michigan historic cabins to visit
...learn about
building your own cabin
...
return home from The Best Old Cabins in Tennessee
There are so many more Tennessee cabins to see and visit. If you know of one, could you tell me about it? Please include as much of the following information as possible:
Cabin location and directions, photos and/or website (if available) and most important - your notes about this cabin.
What did you like about it? How was it constructed? What do you know about its history, owners and events? If you built it yourself, tell about the process and how much time and money it cost you.